How do I use shop4support?
I receive a Personal Budget
If you receive a Personal Budget, the simple guide below shows you how easy it is to use shop4support to buy products and services.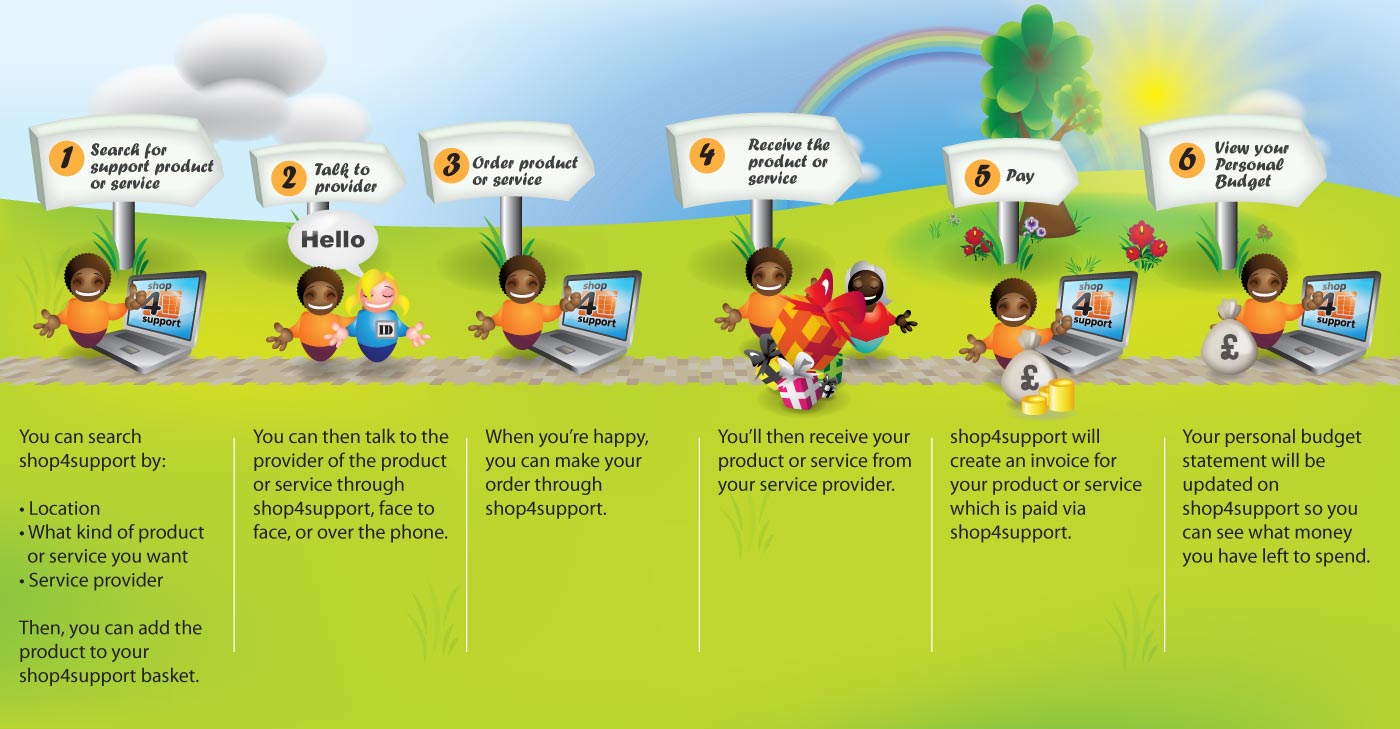 Search & Shop
There are three ways to Search & Shop with shop4support:
By clicking on 'Search for Products and Services' you can shop for products or services by category, such as Personal and Domestic Care, Mobility and Transport. You can also use shop4support's search facilities to search by your postcode or keywords.
By clicking on 'Browse the Stores' you will find a wide range of online stores - you can click through to each store and see what products or services they offer.
The 'Find Local Groups and Activities' area is full of free and low cost activities, support groups and organisations in your area. Simply click on your Council button to find out what is available in your area.
My Life
My Life is an area of shop4support where you can find help and advice from experts and other people using shop4support. Here, you'll be able to find:
You can search through lots of news articles on a wide range of health and social care topics
Share your own experiences, or read other shop4support users' stories right here. Funny, happy, sad, it doesn't matter - we want to hear them!
National resources that can help you get the most out of your life
Where I Live
In the Where I Live area you'll find a vast range of information linked to your local area and Council. Simply find your listed Council or use shop4support to find out how to contact your Council.
Up to date information on local news and events
All the local social care news and events
In this part of shop4support local community organisations can advertise their services, free of charge, to their local area, which means you can find local activities, support groups and clubs to join
Online stores belonging to service providers in your area
My Account
My Account holds information about you and your orders:
Within My Account, My Profile contains a record of your personal details. You can also change your shop4support password here and create a name that other users will see if you want to use Ask the Expert.